Quality Solutions for Hospitals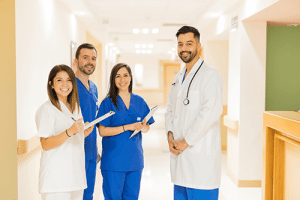 Reputation is vital for growth and success in the Hospital market. Not only the level of care, but the appearance and cleanliness of the facility are paramount. That's why Kinzua is the first choice in specialty disinfectants, cleaners, floor finishes and odor control products for so many hospitals and medical institutions.
Our cleaning and sanitizing products are highly effective in emergency rooms, ICU's, general care rooms, lobbies, kitchens, laundries, restrooms, and hallways. Whether it's killing pathogens and odors, or stripping and waxing floors Kinzua is your key to a clean, sanitary, and pristine facility.
Popular solutions for your industry: