Quality Solutions for Industrial & Manufacturing Facilities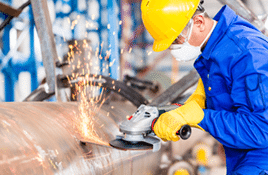 Being that we are a manufacturer ourselves, we have a unique understanding of the needs of industrial plants and manufacturing facilities. In order for industrial operations to be successful they need working equipment in a clean facility.
As a result of our long history of doing business with the Industrial marketplace we have formulated our industrial product line into the concentrations and strengths that your facility requires. We specialize in High-Strength Cleaners and Degreasers, Penetrants, Lubricants and other quality products that will increase the cleanliness of your equipment and facility, and increase overall safety and efficiency.
Popular solutions for your industry: