Kinzua Offers a Complete Chute & Dumpster Solution
Starting with a scheduled deep cleaning & deodorizing, followed by training your staff on a preventative cleaning maintenance plan they can do in-house between professional cleanings. After we are done training your staff on how to keep the chute clean and fresh, we provide the property manager with a schedule that can be monitored to ensure the maintenance plan is followed. We then offer optional installation of automatic misting and foaming systems that maintain your chute & dumpster throughout the year.
Hazards of Dirty Chutes:
If neglected, garbage chutes can also create serious problems for the building, such as grease fires, an out-of-control pest population, rancid food odors and excessive wear and tear on the compactor and chute. Not to mention the drastic decrease in indoor air quality that a dirty chute is sure to provide. Trash & Linen chutes are one of the most neglected areas of a building, and many property managers have found that by cleaning the chutes, you can dramatically decrease pests, such as cockroaches and vermin, in addition to eliminating ghastly odors. Ultimately, Chute cleaning reflects the building maintenance and is the staple in a well-managed building.
The Benefits of Clean Chutes:
Many of the benefits of chute cleaning are immediately apparent, such as the elimination of offensive odors and pests, the elimination of flammable grease, harmful bacteria and an improved quality of life of residents and employees. The fact this is often forgotten, is that replacing a chute in an existing building entails removing walls and the old chute and may cost around $3,000 per floor! Also, costs to repair an existing chute are about the same, typically billed on a time-and-materials basis. These extreme costs can all be avoided with annual or semi-annual trash chute deep cleanings, and an easy-to-follow preventative maintenance cleaning program that your in-house staff can follow in between cleanings.
Kinzua's Process in Depth(Due to Covid- Currently Unavailable):
Step 1: Free On-Site Evaluation
During this evaluation our technicians will physically examine your chute and provide an analysis with recommendations along with a quote on any services. We typically advise deep cleaning chutes once or twice a year. It depends on the tenants and the way they use the chute, if the chute has ever been cleaned, and if it is a linen or trash chute.
Step 2: Preparations for the Big Day
Our team will go over the cleaning process and what to expect along with any preparations that need to be made prior to the scheduled appointment. Typically, the building needs to provide:
Tenant notification a week ahead of time.
110 volt electric supply.
A water source.
A working drain, typically in the compactor room.
Empty compactor.
Notice of any special circumstances.
Step 3: Game Day
On the scheduled day our team will set up all safety precautions & signs and will begin the cleaning with a high powered foaming applicator (Foam Master) and our specialty blended cleaning solution that is designed specifically to break-down the heaviest build-ups found in trash chutes, compactors & dumpsters (Sharpshooter). Sharpshooter not only deep cleans, but also deodorizes the chute walls.
We then do a deep clean and scrub of the hopper doors on each floor and all surfaces of the compactor/dumpster. Then we pressure wash the chute walls & doors, compactor, dumpster and compactor room. At no extra charge we hand polish the exterior of the trash chute doors with our industrial-grade stainless steel cleaner. Also, the hopper door hardware is lubricated and tightened.
The final step is to apply a thick foaming enzyme deodorizer to all surfaces of the chute, dumpster and compactor. This enzyme is available in a variety of fragrances, which you get to choose from.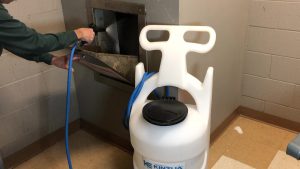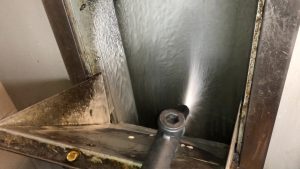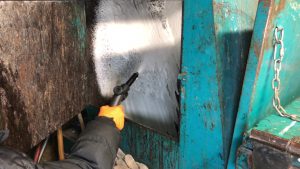 Some bonus services we offer include:
After our deep cleaning is done, we can install our Ultimate Mister system at the top or bottom of your chute, this system creates an automatic mist of our enzyme, that maintains a clean and fresh chute throughout the year.
We offer deep cleaning your drain lines with our foaming enzyme. Using our high-powered foaming machine, we pump foam throughout your buildings drain lines, the enzyme foam then breaks down and biologically digests any organic matter that is present in your drain line. This process results in a dramatic increase in flow throughout your building.
We also provide training and set up an easy-to-follow preventative maintenance cleaning program that your in-house staff can implement in between cleanings.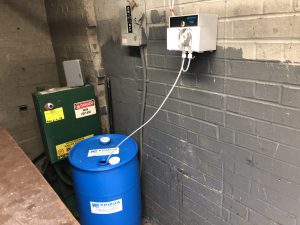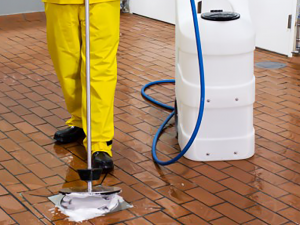 The Bottom Line:
People are often careless, hurried, or even negligent when it comes to getting rid of their trash. Not everything is properly bagged, and nothing is handled with care. The results can be a filthy, smelly, and disgusting mess. This accumulation shortens the service life of the system, leads to nasty smells, and creates a fire hazard. Neglected trash chutes are a breeding ground for bacteria and viruses, and also encourage insects and vermin. Dirty chutes are a serious health hazard, if somebody throws cigar and cigarette butts down the chute, that grease will catch fire. As garbage accumulates on the chute walls, it begins to rot and creates foul odors, and a breeding ground for microbial growth. Then people slide more trash in there and the microbes become an airborne irritant to the eyes and lungs. Although often neglected, trash chute cleaning is a vital maintenance project that should be a part of every building's maintenance program. Not only will these projects ensure happier and healthier residents, but it will also improve the integrity of the building. Kinzua's specialized method of cleaning and sanitation provides immediate and lasting results. Our process cleans, deodorizes, and is environmentally safe and also:
Eliminates unpleasant odors
Ensures healthier air quality
Reduces fire risks
Fewer problems with rodents and insects
Removes garbage buildup
Safeguards against bacteria and viruses
Increases service life of chute, compactor, and bin
Identifies any problems with chute intake and discharge doors
Free estimates
Convenient appointment times
Courteous, efficient, and effective service