Proper maintenance is essential to keep wood floors looking beautiful and performing well for the lifetime of the floor. To keep wood floors looking and performing well for generations, follow these simple guidelines:
Schedule a weekly routine cleaning that involves sweeping, dust mopping, or vacuuming (using the bare floor setting) to remove dust and dirt.
Clean spills immediately with a dry or slightly damp cloth.
Use a cleaner made specifically for wood floors, like Wood Wizard.
Wood Wizard is a concentrated mopping solution with a quick evaporation formula. Chemical cleaners that sit on wood floors too long, damage them and decrease the floors lifespan. Wood Wizard not only evaporates quickly, it deep cleans and renews wood finishes.
RESULTS FROM A SPOT DEMONSTRATION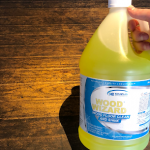 CLICK BELOW FOR A QUOTE!
Wood Wizard